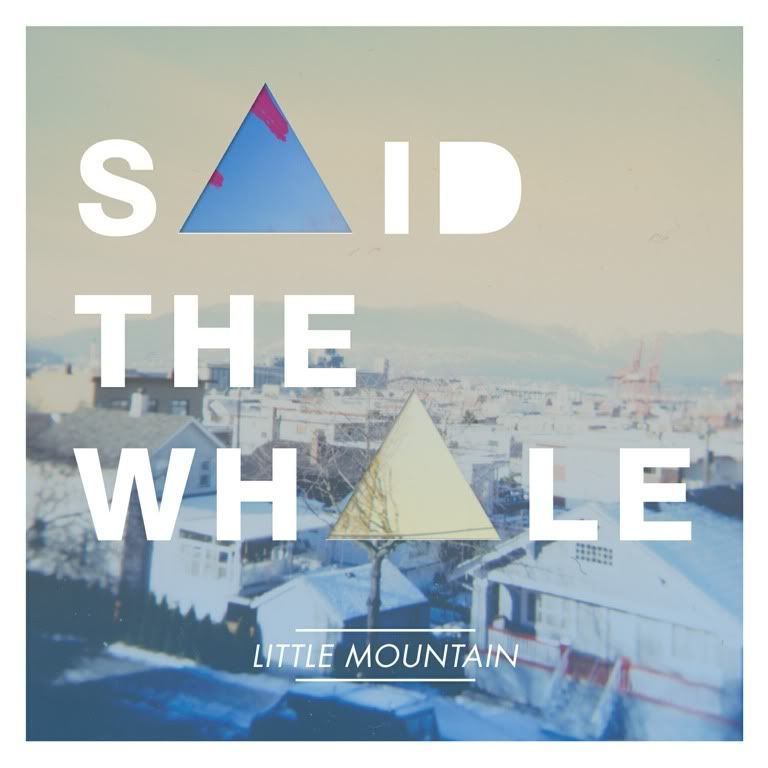 "LITTLE MOUNTAIN"
ON MARCH 6, 2012
"HEAVY CEILING" ROCKING RADIO
SEE THE BAND ON TOUR IN MARCH & APRIL & AT A SPECIAL LAUNCH SHOW AT THE RIO THEATRE, VANCOUVER ON FEBRUARY 25
SAID THE WHALE's new studio album Little Mountain will be released in North America on March 6, 2012 via Hidden Pony Records/EMI. It will be released in the U.K. and Europe on March 12. The 15 track long player is the

band's third studio record.

The 2011 JUNO Award winning band for New Group Of The Year released the first single from the new album, the dancefloor-catchy Heavy Ceiling before the end of 2011. It's currently a Canadian Alt-Rock/ Active Rock favourite, this week seeing play at stations across the country from St. John's to Vancouver. According to Mediabase, Heavy Ceiling is the #3 Top 10 Gainer and #2 Most Added track at Alternative Rock. The single reflects theconfident, and razor sharp sound fans can expect from this new Said The Whale album. Little Mountain was produced by Tom Dobrzanski and mixed by multiple Grammy Award winner, Jack Joseph Puig.
To launch the record, Said The Whale has completed videos for all of the 15 album tracks. Working in partnership with Vancouver-based production company, Amazing Factory www.amazingfactory.com each video willget an exclusive reveal in either Canada, the U.S. or the U.K. via an array of mainstream media and blog outlets. The first video will be revealed on February 7 via Exclaim.ca
On February 20, Little Mountain will be available for pre-order from iTunes. On February 25, the band will host a very special video screening and album launch at the Rio Theatre in their hometown of Vancouver.

Tickets are available to the public here: www.northerntickets.com/detail.php?id=345 It will mark the beginning of the customary Said The Whale whirlwind tour schedule that will take the band across Canada, through the US and the UK and Europe this year.
Said The Whale, with Little Mountain has produced their most adventurous effort yet; with juggernaut production values, song suites thatexplode out of the speakers and tracks that blend seamlessly into one another. It finds the group defying rock conventions without sacrificing any of their pop smarts. More diverse than previous albums, Little Mountain is a multi-stylistic tour-de-force that ventures into everything from soaring, horn-laden cabaret ("The Reason") to jaggedly syncopated rock ("We Are 1980") and effervescent guitar pop ("Loveless").
Ticket info is available at the band's website. All shows will be on sale Saturday January 21: www.saidthewhale.com
SAID THE WHALE – TOUR DATES 2012 –
Feb 25 – Vancouver, BC – Rio Theatre (video screening/listening party)
March 2 – Seattle, WA – Q Café
March 5 – Sacramentao, CA – Luigi's Fun Garden
March 6 – San Francisco, CA – Hotel Utah
March 8 – Los Angeles, CA – Silverlake Lounge
March 10 – Tucson, AZ – Plush
March 11 – Phoenix, AZ – Rhythm Room
March 13 – 18 – Austin, TX

– SXSW
March 22 – Pittsburgh, PA – Club Café
March 23 – Philadelphia, PA – M Room
March 24 – Brooklyn, NY – The Rock Shop
March 27 – Saint John, NB – Peppers Pub
March 28 – Halifax, NS – Reflections Cabaret
March 30 – Cornerbrook, NFLD – Grenfell College
March 31 – St. Johns, NFLD - TBA
April 5 – Charlottetown, PEI – UPEI
April 7 – Fredericton, NB – Charlotte St Arts Centre
April 8 – Quebec City, QC – Le Cercle
April 10 – Montreal, QC – Le Divan Orange
April 11 – Ottawa, ON – Ritual
April 12 – Hamilton, ON – This Ain't Hollywood
April 13 – Toronto, ON – The Great Hall

(THE EDGE Presents)
April 14 – London, ON – London Music Hall (Lounge)
April 16 – Windsor, ON – Capitol Theatre
April 17 – Detroit, MI – The Lager House
April 18 – Chicago, IL – Double Door
April 20 – Minneapolis, MN – 400 Bar
April 21 – Winnipeg, MB – Park Theatre
April 23 – Regina, SK – Artful Dodger
April 24 – Saskatoon, SK – Broadway Theatre
April 25 – Edmonton, AB – Myer Horowitz Theatre
April 26 – Calgary, AB – MacEwan Hall (X92.9 Presents)
April 28 – Kelowna, BC – Habitat
April 29 – Kelowna, BC – Habitat
May 3 – Vancouver, BC – Vogue Theatre (THE PEAK Presents)
May 4 – Victoria, BC – Alix Goolden Hall
July 14

– Toronto, ON – Downsview Park *Edgefest