Fresh on the heels of their first Canadian national tour in 4 years, Ox steps up with NICO, the first video from their acclaimed new album, 'tUCo'.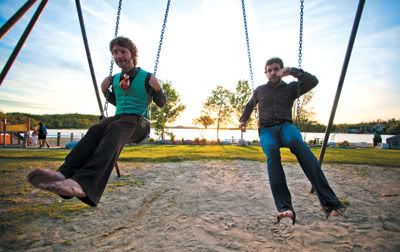 Directed by John Milne, the very same film maker noted for his involvement in the soundtrack aspect of 'tUCo'- the imagined film which inspired Ox to jump the gun on songs for a film that has yet to be made, 'NICO', the video, is as minimalist and charming as the sleeper gem from the album. Ox's Mark Browning explains.
We were 4 days out from leaving on the tour and John called me up and said, you gotta come over and let me shoot you- he'd done the video's for Burnout ('Unknown Legend' & 'Prom Queen') in a similiar burst of creativity- both were shot in one day- so, when John calls me, I go. We spent a beautiful October Sunday afternoon in his garden shooting- and it just felt so Northern Ontario. His idea was to turn the NYC Velvet Underground reference of Nico on its head- and make it a love story to Northern Ontario. He had some stunning footage he was anxious to cut into it and, it just fell together. And I love planes... I think they're my new thing.
NICO h

as a special unassuming quality to it that defies description.
Ox has long been one of Canada's great 'alt-country' underground secrets- but with 'tUCo', and their recent string of jaw-dropping performances across Canada, the secret is increasingly out. Steeped in atmosphere and open road imagery- the band goes from zero to 90mph and back again in the space of a chorus. 'Neil Young kissed' they've been called, and its a description that is well earned.
From the opening mission statement of Neil Young's 'Out On The Weekend', to its final atmospheric moments, Ox's 5th album 'tUCo' meanders through its sonic explorations to arrive in twilight after an all night drive.
The plot: a soundtrack to an imaginary film- a lost script... from award winning indie filmmaker John Milne a loose storyline: "a 70s buddy movie channelling Keith Carradine and Dennis Hopper. The band is Tuco, and they're imploding." This is all Ox had to work with- so, they created a soundtrack. The film was never made. The record was.
No accident is out of place here- tape hiss, amp hum, trains and TV... the Ox noise machines are well oiled. Featuring guest appearances from Fred Squire, Shawn Dicey, Max Myth, Nathan Lawr, Kate Maki & Dave MacKinnon, never has Ox sounded this focused, or this cinematic in its soundscapes while simultaneously presenting their most compelling songs to date.
It's Rhinestone Cowboy meets Bright Eyes with a sprinkle of The Flaming Lips and it's heading to a town near you soon.
More Info:
http://www.oxmusic.ws/