Music Nova Scotia Music and Industry Award Winners
Presented at the NSLC Gala Awards Show and Awards Brunch
Three more years of NSMW locations announced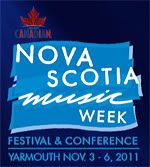 Yarmouth, Nova Scotia
– Three fantastic years in Yarmouth have been wrapped up with a bang at the Mariners Centre in Yarmouth for the NSLC Gala Awards Show.
Carmen Townsend
, nominated for five awards, took home every category except for Entertainer of the Year. Townsend, who also performed on the show, won for Female Artist Recording, New Artist Recording and Recording of the Year. She was presented with Rock Recording of the Year award earlier at the Music and Industry Awards Brunch at the Rodd Grand Hotel in Yarmouth.

The Bell Aliant Entertainer of the Year award, voted online by the public went to
Three Sheet – the live, beat-boxing hip-hop group that closed out the Gala performances. The group also won Digital Artist of the Year, earlier in the day at the Awards Brunch.

SOCAN Songwriter of the Year was awarded to Songs and Stories host
Jimmy Rankin, for his song, Here in my Heart.

Group Recording of the Year went to fellow Cape Bretoner group
Slowcoaster for their album, The Darkest of Discos. David Myles, who performed Saturday night at the sold out Songs and Stories, won for Male Artist Recording of the Year with his album, Live at the Carleton. This was his second award of the day, also winning Folk Recording of the Year.

Music Video of the Year went to director
Aram Kouyoumdjian, who directed The Stanfields in a military-style video game drama for Ship to Shore.

A close to sold-out crowd attended the Gala Awards, hosted by Candy Palmater and Tony Quinn. Performances on the show included
Owen and Gerry, Ryan Cook, Jenn Grant, Carmen Townsend, Slowcoaster, Three Sheet, Jimmy Rankin, Gloryhound, Rain Over St. Ambrose, Elyse Delaney and Luc Deon,Rhapsody Quintet, Ghettosocks, Ghettochild, J-Bru, Quake, R$ $mooth and Asia.

Music Nova Scotia President, Brian Doherty, announced the next three years of locations for Molson Canadian Nova Scotia Music Week at the Gala. Liverpool will host next year. Sydney, Cape Breton will host in 2013 and 2014 will be in Truro. This continues Music Nova Scotia's mandate to bring its biggest event of the year to communities around Nova Scotia to showcase the best of the province's music.
Earlier in the day, the Music and Industry Awards Brunch, presented by Fireball Cinnamon Whisky, honoured musicians and industry professionals in 35 categories in the ballroom of the Rodd Grand Hotel, Yarmouth. Music Nova Scotia President, Brian Doherty, hosted the event and performances were given by two-time nominee
Ruth Minnikin (who won in the Electronic Recording of the Year category) and Ben Caplan.

The awards are voted on by the Music Nova Scotia membership of more than 1400 musicians and industry professionals.


The complete list of winners are as follows:
Presented at the NSLC Gala Awards Show:


Bell Aliant Entertainer of the Year - Three Sheet

Recording of the Year - Carmen Townsend – Waitin' and Seein'
New Artist Recording of the Year - Carmen Townsend – Waitin' and Seein'
Female Artist Recording of the Year - Carmen Townsend – Waitin' and Seein'
Male Artist Recording of the Year - David Myles – Live at the Carleton
Group Recording of the Year - Slowcoaster – The Darkest Of Discos
SOCAN Songwriter of the Year - Jimmy Rankin – Here in my Heart
Music Video of the Year - The Stanfields – Ship To Shore – Director: Aram Kouyoumdjian

Presented at the Music and Industry Awards Brunch:


Alternative Recording of the Year - Ryan MacGrath – Cooper Hatch Paris

Blues Recording of the Year - The Hupman Brothers Band – Loveseat Volume 1
Country and Bluegrass Recording of the Year - Ryan Cook – Peaks & Valleys
Digital Artist of the Year - Three Sheet
DJ of the Year - DJ IV
Electronic Recording of the Year - Ruth Minnikin and Her Bandwagon – Depend On This
Folk Recording of the Year - David Myles – Live at the Carleton
Francophone Recording of the Year - Luc Tardif - Et sans aucune raison apparente
Hip Hop Recording of the Year - Something Good – Business As Usual
Loud Recording of the Year - Stone Mary – Hellbound Gypsy Train
Musician of the Year - Kev Corbett
Rock Recording of the Year - Carmen Townsend – Waitin' and Seein'
Traditional/Roots Recording of the Year - Dave Gunning – A Tribute to John Allan Cameron
Urban Recording of the Year - Dutch Robinson – Life

Industry Awards


Booking Agent of the Year - Stephanie Purcell

Community Presenter of the Year – CKDU
Company of the Year - Diminished Fifth Records
Corporate Sponsor of the Year - Molson Canadian
Educator of the Year - Waye Mason
Event of the Year - Halifax Pop Explosion
Industry Professional of the Year - Jonny Stevens
Manager of the Year - Jason Burns
Media Professional of the Year - Stephen Cooke
Producer of the Year - Daniel Ledwell
Production Company of the Year - Tour Tech East
Promoter of the Year - Sonic Concerts
Publicist of the Year - Matt Charlton
Radio Program of the Year - Atlantic Airwaves (CBC)
Radio Station of the Year - CKDU 88.1FM (Halifax)
Recording Studio of the Year - The Sonic Temple
Studio Engineer of the Year - Charles Austin
Technician of the Year - Steve "Snickers" Smith
Venue of the Year - The Carleton Music Bar & Grill
Visual Artist of the Year - Chr!s Sm!th
Volunteer of the Year - Debbie Rockola