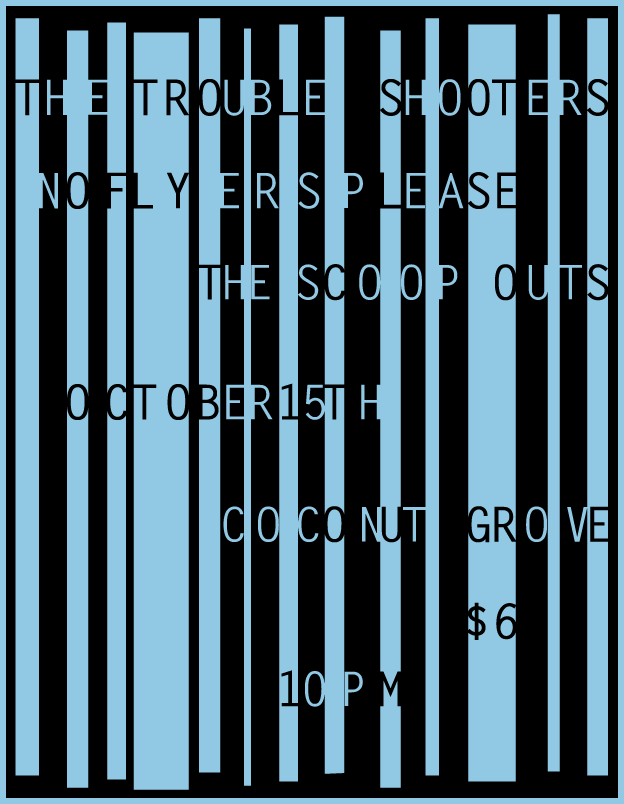 CHRIS MARTIN & THE TROUBLE SHOOTERS
w/ No Flyers Please & The Scoop Outs
Review By Dan Nightingale
The Scoop Outs
were up first. Their opening blues based vamp led my heart to sink and my cynicism to flare, but after a few songs my expectations were reversed. Playing fast, surf punk/blues inspired tunes, the Scoop Outs could have been a boring band but offered lots of variety, good vocals, and catchy skilled guitar work. The great vocal harmonies really thickened out the sound, and the band sounded the best when they were in play. Minus one point for the bass player wearing their own t-shirt. By the end of their set they'd won me over, and I look forward to seeing them again.
Video:
We all know about
No Flyers Please
(don't you love it when Rocking 4 Dollars bands with joke names become local favorites?). It was hard to say whether it was the tasty grooves of bassist Issac Hansen or the $20 prize, for best dance moves, on the mic stand that got the crowd moving - but whatever it was, it got the people dancing.
By the end of the set, the crowd and the band were a sweaty mess, though there was slightly less shirtlessness this time (among the band, at least; one audience member just couldn't handle the painful restrictions of upper body clothing – props for getting service at the bar san shirt!).
Video:
As headliners
Chris Martin and the Troubleshooters
came on, the shirtless crowd wandered out and a new crowd with nicer sweaters wandered in. In a 180° turn from the previous bands, C.M & the T's played old school rhythm and blues, complete with suits and cliche blues lyrics. Plus, a 3 piece horn section that seemingly, in some cosmic, Douglas Adams type mixup, consisted solely of 3 saxophones (to be fair, one of them was a Baritone sax, as far as I could tell in my limited brass experience). While they were great at what they did, they seemed a little out of place with the rest of the show (or, I suppose, the rest of the show seemed out of place with them). I guess there aren't a lot of other local R&B bands to open for them – though generally a band like this tends to play cover band style 3 set shows with one or no openers. I can't say they engaged me, but they kept the hard core dancers moving and shaking – even without the help of $20 bills.
Video: